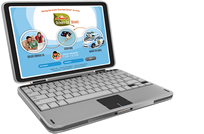 Looking for Los Angeles County Drivers Ed?
Congrats! You've found the right online drivers ed website to fulfill your needs. Our online drivers education program is offered in every California city and we also provide in car driving instruction for many parts of Los Angeles and Ventura counties. Start a free trial today and see for yourself why we have the online driving school that tens of thousands of teens have already successfully completed.
Why California Driving Schools Are Moving Towards Online Education
In today's world, everyone knows the obvious advantages of completing education online. The convenience of being able to complete a drivers education course at your own pace, on your schedule is a definite plus. And now more than ever, with gas prices soaring, not having to drive to an in-house classroom is another undeniable advantage of taking drivers ed online. Probably the biggest upside to taking your driving school class online, however, is the quality of education. A recent 2003 CA DMV study showed that students taking computer based drivers education courses scored higher on their exit exams than did their study counterparts who took their education in a traditional drivers ed classroom setting.

So what are you waiting for, you can take our online driver ed course on your own time, at your very own pace with no extra wasted time spent in a stuffy drivers ed class. Our online program lets you log in and log out as frequently as you'd like. The computer driven driving classes come full with Interactive Flash lessons, the most recent info on safe driving strategies, current DMV handbook rules and regulations, and a innovative, state approved curriculum to get you safely on the road to becoming a safely licensed driver.



Check out a partial list of cities in Los Angeles county serviced by LosAngelesDrivingSchool.com: