Need California DMV Practice Tests?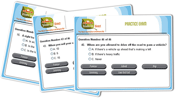 Want to pass your CA DMV test required to get your permit? Then Los Angeles Driving School has just what you need: unlimited CA DMV practice tests... for FREE! Powered by Drivers Ed Direct, we have a DMV practice test generator that can generate an unlimited amount of CA DMV practice tests. Generated from a pool of over 200+ similar DMV permit test questions, we can assure that you'll never get the same practice test twice. And unlike other driving schools that like to charge additional fees for their practice tests, we will always offer our practice tests free along with your online drivers ed course. Take these practice tests over and over again until you feel confident that you will pass your written permit test the first time. Students agree: taking these practice DMV tests not only improves your chance for success on test day, it make you a more educated, safer driver.


Hear What Some Of Our Satisfied Customers Have To Say:
"I had fun! I took a couple of sample tests and passed both exams on the first try. Your customer service staff was very helpful" – Lynsey B., Northridge, CA
"Your program has already taught me many rules of the road and I have only completed 2 lessons. I believe that this program will be a great benefit for me whenever I begin to drive." - Cameron M., San Diego, CA
"THANK YOU! I passed my permit test 3 days ago on the 1st try, you made it really easy for me." - Evyn, Sacramento CA
"Thanks! I loved your program!!! I have recommended your course to 5 of my friends!" – Rene, San Jose CA
"I JUST PASSED MY PERMIT TEST because of you guys!!! Thanks =] I'm totally gonna tell everyone!!!!" – Samira, Woodland Hills CA
"I passed lesson 1 and I would like to thank you guys at drivers ed direct for making this so easy and fitting around my insane schedule." - Tyler F., Moorpark CA
"Yea, I got my license!!! Thanks, I couldn't have done it without you guys:]" – Sarit, Woodland Hills CA
"Hey I took the test at the DMV today and I passed! Thanks drivers ed you guys are the best!" – Danna, Calabasas CA
"I just passed my permit test today! I can't wait to schedule my driving lessons! Your program online is great." - Victoria P., West Hills CA
"I'm done with my first quiz! I like this site because it lets me go at my own pace and i don't have to rush! I can also take the time to understand everything! It doesn't add to my homework because if i already have a lot of homework i don't have to do drivers ed for that night! Thanks so much!" – Lauren, Los Alamitos CA
So What Are You Waiting For?
Get on your way to getting your California learner's permit and your California Drivers license with our CA practice DMV tests! Sign up to day, register for our online drivers ed course and you'll get access to the unlimited supply of practice tests designed to better prepare you for your DMV test.