Providing Quality Adult Drivers Education

At Los Angeles Driving School, we offer quality adult drivers education to teach both unlicensed and licensed adults how to drive. Whether you're an adult licensed driver that wants to learn new driving skills or freshen up on the basics, or you're an unlicensed adult driver who wants to get their first license, Los Angles Driving School is here to help adults.

The Key to Adult Drivers Training

When it comes to adult drivers ed, we know what it takes to make adults feel comfortable and talk to adults in a language they understand. We have a wide variety of driving school instructors who have worked with hundreds of adult driving students before. You can even pick you own driving instructor and find someone who meets your specific needs, whether it be a female driving instructor, a male driving instructor, or a driving instructor closer to your own age.


Putting Safety First in adult drivers Ed

With a adult drivers education course from Los Angeles Driving School, adults learn at the pace that's right for them. Using a language adults understand, your adult drivers education experience is both easy to understand and effective. When it comes to adult behind the wheel training, our hybrid cars and SUVs make up our innovative and environmentally conscious take on driving school education. Our training vehicles also come equipped with extra safety equipment such as side and head curtain airbags and stability control systems - giving our students the confidence they need when beginning to drive.




Hear What Some Of Our Adult Students Have To Say About Our Adult Drivers Education

"My belief is there is no price for safety. If you want the best, you don't compromise."

"My instructors, Tom, Scott and Chad exhibited professionalism and extraordinary patience. The road rules became crystal clear as the reasons for these rules were made and the other potential risks on the road were explained. Driving was aimed at perfection with regard to safety for others and myself on the road. Nancy always reminded me of my driving schedule and even made the appointment for me with DMV for my driving test. It was a total driving learning experience!"

"By the way, I passed my actual driving test today on the FIRST take."

"I wish words are substantial to express my gratitude for helping me obtain my California driver's license."

ADULT ONLINE DRIVERS ED FOR ALL OF CA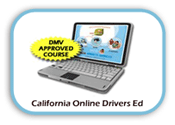 Searching for quality online adult drivers ed in your area? Then we've got just what you need! We offer online drivers ed for all ages that will give you the information you need to stay on top of California driving laws and regulations. We've got Fresno drivers education, Ventura County drivers ed, Irvine driving school classes, Santa Barbara driver ed courses, and drivers ed for the Bakersfield. In fact, we provide online drivers ed for adults in every California county. When it comes to the online adult drivers ed in the state of CA, there's no better way to get the knowledge and insight you seek than with Los Angeles Driving School.